Advent is Christ's church. We proclaim Christ as Lord and Savior and believe that salvation is a gift from God. His amazing grace and steadfast love surround us. In the waters of baptism we are claimed by God and marked with the cross of Christ forever.
You too are called to live in this relationship and to know Jesus.
Church provides a place of refuge from the challenges of everyday life. We experience the presence of the Holy Spirit working among us, and church is a place to share with fellow believers. Jesus has promised an abundant life for those who choose to follow Him in this journey. So come and join us!
In 1521, Martin Luther was brought before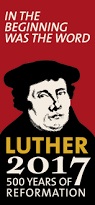 a church council in Worms, Germany and
demanded he recant his writings and teachings. He replied, "Unless I am convinced by the testimony of the scriptures and by clear reason, I am bound by the Scriptures I have quoted. My conscience is captive to the Word of God. I cannot and will not retract anything, since it is neither safe nor right to go against conscience." (The room erupted in chaos, cheers, and jeers. Then came the most famous words,)
"Here I stand. I cannot do otherwise. God help me. Amen".